19th April the EUROPEAN PATIENTS' RIGHTS DAY
EUPATI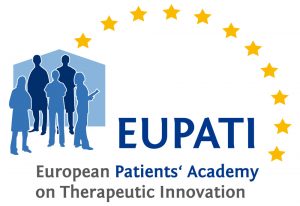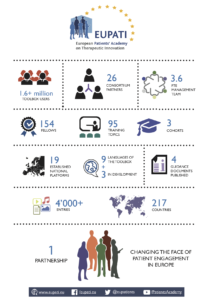 The European Patients' Academy (EUPATI)
The European Patients' Academy (EUPATI) is a pan-European project implemented as a public-private partnership by a collaborative multi-stakeholder consortium from the pharmaceutical industry, academia, not-for-profit, and patient organisations.

EUPATI offers a wide range of learning and training material.  Visit EUPATI official site which includes the EUPATI Toolbox, EUPATI Courses, EUPATI Publications and EUPATI webinars AND MUCH MORE!

EUPATI HTA4Patients project kicks off on March 1 2023.  Find all details here HTA4 Patients Press Release . 

The project was launched in Malta in early 2014. Material from the EUPATI toolbox is available in Maltese TOOLBOX MALTI

The EUPATI Open Classroom is a new opportunity to get trained at the comfort of your home. Learn more by visiting the site
100 Cities Against Pain
September 2022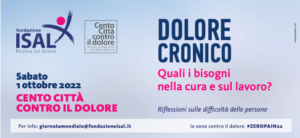 The XIV edition " Cento Città contro il Dolore" 1 October 2022
The chosen theme for 2022: "Chronic pain. What are the needs in care and at work? Reflections on people & #39s difficulties ".
During the day are encouraging people to reflect on how much suffering still affects people afflicted from a state of chronic pain and how this condition affects their health and work. We want to bring attention on the necessity to define quality indicators on the treatment processes and on the timing in taking care of the pathologies in relation to the different degrees of severity.
What is Cento Città contro il Dolore?
More than 200 million people in the Western world suffer from chronic pain every day.
Neuralgia, endometriosis, vulvodynia, fibromyalgia, trauma outcomes, migraines, herpes zoster, diabetic neuropathy, are just a few names of
pathologies that cause daily and persistent pain. According to the latest data from the Council of the European Union report on
chronic diseases and the role of pain, in Europe the prevalence of chronic pain is between 16% and 46%: this means that about 80 million Europeans are affected by moderate to severe chronic pain. In Italy this prevalence reaches 26% of the population: 13 million people suffer daily. These data highlight how chronic pain is a real social drama, an epidemic of suffering with a strong impact on the quality of life of those affected, of their
families but also of the national health systems, an emergency that therefore requires the Civil Society to deal with the necessity to build innovative
procedures for the treatment, care and prevention of pain. For this reason, since 2009, with the patronage of the major national and international institutions, ISAL annually organizes the Hundred Cities Day against Pain, an event designed to promote the awareness of institutions and civil
society towards the problem of chronic pain and to give voice to the needs of people affected by chronic pain.
Cento Città contro il Dolore wants:
 To raise awareness and inform the population about the prevention and treatment of chronic pain;
 To encourage the media to contribute in the battle against pain;
 To support the nationwide application of Law 38/10, a law that guarantees the right to access to specialized centers for pain treatment;
 To develop a network of solidarity, both scientific and social, which connects doctors who deal with chronic pain therapy and the citizens who suffer from it;
 To give support to those who suffer through a free specialist medical consultation;
 To have chronic pain recognized as a disease to be prevented and treated.
Though a national event will not be held in Malta we would to invite people to speak to their doctor to get all necessary information on pain and on
what are the possibilities of treatment and cure.
The "Brief Five-Item Chronic Pain Questionnaire" for the detection of pain in epidemiological investigations has been developed with the contribution of ISAL
Press Briefing launching World Pain Day, Rome, September 2022
World Patient Safety Day
Medication Without Harm is the theme chosen by World Health Organization for World Patient Safety Day 2022
17th  September 2022
Medications are the most widely utilized interventions in health care, and medication-related harm constitutes the greatest proportion of the total preventable harm due to unsafe care, let alone the economic and psychological burden imposed by such harm. Acknowledging this substantial burden and recognizing the complexity of medication-related harm prevention and reduction, "Medication Safety" has been selected as the theme for World Patient Safety Day 2022.
Every person around the world will, at some point in their life, take medications to prevent or treat illness. However, medications sometimes cause serious harm if incorrectly stored, prescribed, dispensed, administered or if monitored insufficiently.
Unsafe medication practices and medication errors are a leading cause of avoidable harm in health care across the world. Medication errors occur when weak medication systems and human factors such as fatigue, poor environmental conditions or staff shortages affect the safety of the medication use process. This can result in severe patient harm, disability and even death. The ongoing COVID-19 pandemic has significantly exacerbated the risk of medication errors and associated medication-related harm. It is in this context that 'Medication Safety' has been selected as the theme for World Patient Safety Day 2022, with the slogan 'Medication Without Harm'.
The global campaign reaffirms the objectives of the WHO Global Patient Safety Challenge: Medication Without Harm launched by WHO in 2017. The campaign calls on stakeholders to prioritize and take early action in key areas associated with significant patient harm due to unsafe medication practices. These include high-risk situations, transitions of care, polypharmacy (concurrent use of multiple medications) and look-alike, sound-alike medications. The campaign will provide a special focus on the implications of the COVID-19 pandemic for medication safety, considering the serious disruption in the provision of health services.
World Patient Safety Day is one of WHO's global public health days. It was established in 2019 by the Seventy-second World Health Assembly through the adoption of resolution WHA72.6 – "Global action on patient safety". Its objectives are to increase public awareness and engagement, enhance global understanding, and work towards global solidarity and action by Member States to enhance patient safety and reduce patient harm.
Hundred Cities against Pain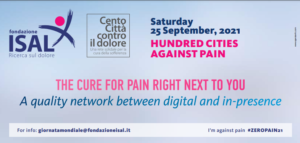 The Malta Health Network has joined the initiative "100 cities against pain" led by ISAL Foundation once again in 2021.  The theme for this year "the Cure for Pain right next to you" A quality network between digital and in-presence. 

It is interesting that this year, following the work done to reach out to patients remotely, more awareness is targeted at exploring the benefits of digital health for Chronic Pain Patients.

One hundred cities against pain this year will be dedicated to reflecting on the need for an acceleration of humanization of care and technological innovation, which ensures painful chronicity with proximity assistance also thanks to telemedicine.

The project "100 cities against pain" proposes:
– Sensitize and inform people about pain
– Recognize chronic pain as a preventable and treatable disease
– Support health care efforts to prevent and manage chronic pain
– Make medications refundable and diagnosis and care instruments available
– Promote fund raising for research
– Facilitate a specialist formative culture
– Involve media in pain fighting

Press Message for 2021 YouTube Message in Italian 

The aims of the campaign are mainly to raise the awareness of the general public that Pain is real and those who suffer in silent are encouraged to come forward and seek adequate help and treatment. Secondly there is a felt need of more awareness and training amongst medical and health care professionals to recognise and treat pain adequately.
Patient Solidarity Day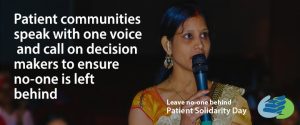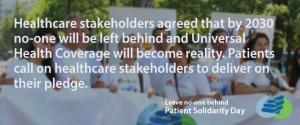 Theme: Globally Empowered Patients: Power through Knowledge.
Patient Solidarity Day is an initiative of the International Alliance of Patients' Organisations

Patient Solidarity Day takes place each December. Thousands of people from around the world rally around one key issue facing patients and raise awareness by hosting events and showing support for the Day.

On this day  patient advocates and stakeholders from all seven world regions will stand together, united in a celebration of Patient Solidarity Day.

Every year MHN joins the celebrations  through different events such as training opportunities to it's members. Patient Solidarity Day in Malta 2017

The theme, 'Globally Empowered Patients: Power through Knowledge', will allow us to rally around a key tenet of IAPO's Patient-centred Healthcare Declaration, that patients have the information that allows them to participate as equal partners in health policy-making at all levels.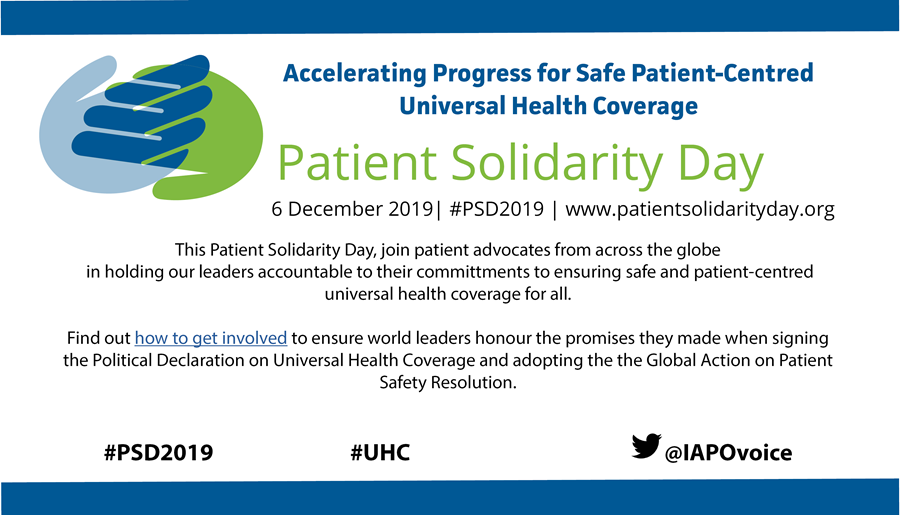 Societal Impact of Pain Malta
(SIP Malta)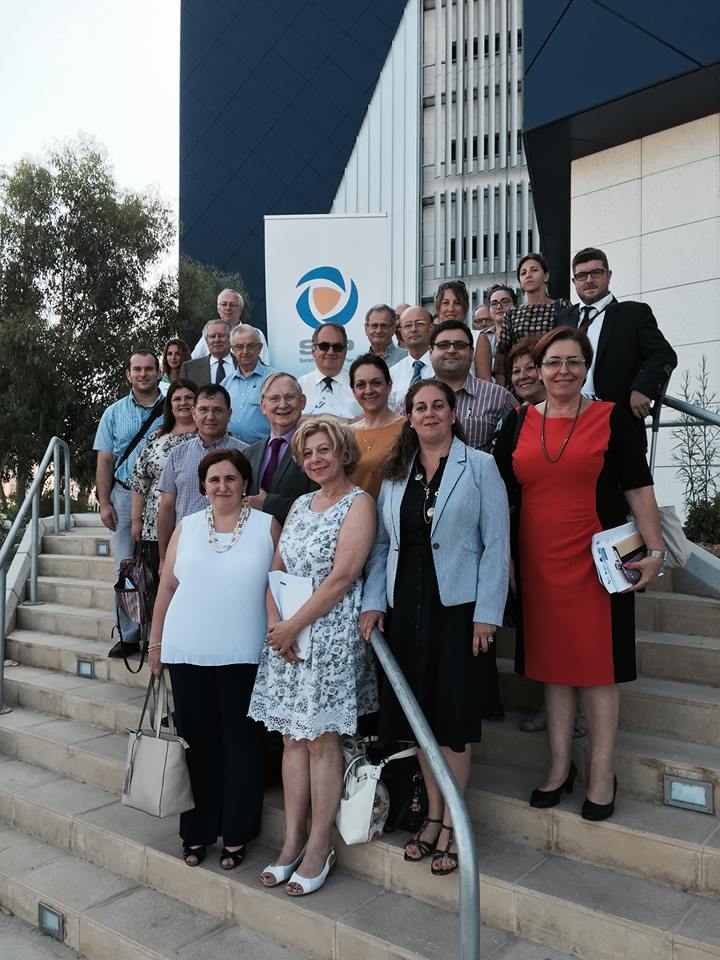 Maltese organisations agree to join forces to set up Societal Impact of Pain Malta (SIP, Malta) July 2016
Representatives from the Maltese European Parliamentarians' office, Maltese Parliament, Ministry of Health, Service providers, professionals, patients and citizens' organisations have agreed to work together to address the common theme of pain. This decision was taken during a stakeholders meeting held on July 8 2016.
The diverse audience at the meeting was presented with the work carried out over the past seven years of SIP, but focused mostly on the recommendations agreed upon during the 2016 SIP Symposium which took place in Brussels on the 23-24 May. Participants discussed the socioeconomic implications of pain and policy solutions to this burden both for the individual and society.
The objectives of SIP Malta are to raise awareness of the relevance of the impact that pain has on our societies, health and economic systems; develop and foster national and European-wide policy strategies and activities for improved pain care, and encourage coordination between the various stakeholders.

For further information see SIP Malta Press Release.

Visit SIP Malta Facebook

View Pain Roadmap for Malta produced in collaboration with SIP Malta, the Malta Health Network and the No Pain Foundation.

Poster on SIP Malta presented at EFIC Congress 2019 in Valencia – Poster 

VIDEO STATEMENT OF GERTRUDE A. BUTTIGIEG – SIP 2019
Impact of Pain on Maltese Citizens
---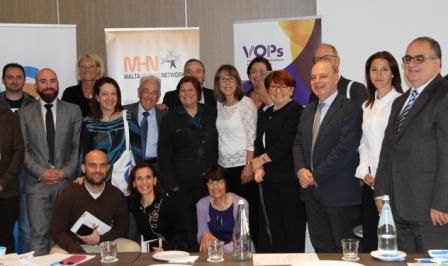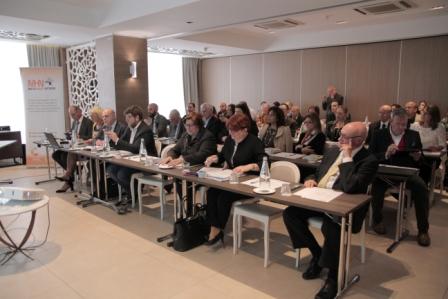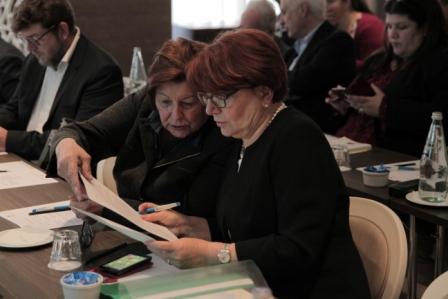 Impact of Pain on Maltese Citizens
Pain indicates that something is wrong with our body. Pain is defined by the International Association for the Study of Pain (IASP) as 'an unpleasant sensory and emotional experience associated with actual or potential tissue damage'.

International research recognises chronic pain is pain that persists for more than 3 months. In this research on Impact of Pain in Maltese Citizens research, carried out in Malta in 2017, some people have reported persistent pain for 2 years and more.

Data indicated that 20% of Malta's adult population experience chronic pain. Such pain is present in 1 in 10 persons aged 18 -24years, rises to 1 in 4 persons aged 45 years and over. Almost 40% of the younger cohort reported a higher level of impairment to their social activities due to their physical or emotional state.
This project has been funded through the Voluntary Organisations Project Scheme managed by the Malta Council for the Voluntary Sector on behalf of Parliamentary Secretary for Youth, Sport and Voluntary Organisations.



The Chronic Pain Project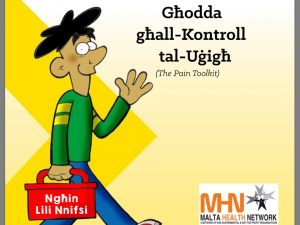 Relieving pain for Chronic Pain patients Project
In October 2016, The Malta Health Network launched the Maltese version of the Pain toolkit – Għodda għall-Kontroll tal-Uġigħ.  This was one of the activities in the project funded by SIS funds managed by the Malta Council for the Voluntary Sector
The Patient Ambassadors Programme
Do you or someone you care about have a condition that you wish more people understood? Have you had a good experience with a doctor or nurse that you want to share to improve other people's care? Have you heard about a change in policy or law that you think is wrong or unfair?
EPAP (the European Patient Ambassador Programme)
This online programme introduces you to some of the skills and knowledge you may need to represent yourself and others successfully. EPAP is a self-learning programme providing patients and carers with essential skills and knowledge needed to interact with healthcare professionals, policymakers, researchers and journalists.
This programme has been developed by European Lung Foundation (ELF). The programme is suitable to anyone living with any chronic condition. This is why EPAP is for everyone, regardless of the condition they are affected by, and regardless of which world region they live and work in.