Year 2019
_________________________________________________________________________________________________________________
MHN AGM

2018
28.02.2019
In line with Malta Health Network (MHN) statute and Voluntary Organisations Act. MHN held it's Annual General Meeting. This was very well attended. All who attended approved the Financial report for 2018 and the Annual Report presented by Chairperson.
13 MEP candidates support the #Europeforpatients Manifesto
28.02.2019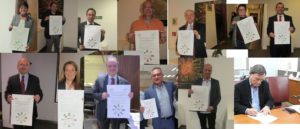 The Malta Health Network (MHN) is supporting the proposed manifesto of the European Patients forum (EPF) for EU elections 2019. The main theme is 'Putting what matters to European patients at the heart of European Elections 2019.' In order to disseminate this message MHN invited representatives from it's 43 member organizations for a healthy discussion about heath with all MEP Candidates. 13 MEP Candidates from all groups have pledged their support to the proposed manifesto. They confirmed this by signing a declaration which summarizes the principle points of the manifesto. They declared their support to the #europeforpatients campaign and will strive to ensure that what matters to patients is always at the heart of European health policy. Consequently, they call on all political leaders of the EU, the European Parliament and the future Commission to commit to upholding and prioritising the following five points:
Act to ensure that all patients – everywhere in the EU have affordable – timely access to the spectrum of healthcare they need with no discrimination.
Adopt new, comprehensive European legislation on patients' rights to ensure all patients in the EU have care that is person-centred, high quality and based on the same fundamental rights.
Ensure that Europe's future digital health tools and systems start from patients' priorities and are co-developed with patients to bring real added value.
Involve patients in all EU-funded projects and programmes, working with patient organisations to set ground rules for research involvement and compensating patients for their expertise.
Ensure meaningful patient involvement in all parts of health systems, by working with the patient community to share learning and support the implementation of good practices.
MHN also asked the MEPs candidates present to support the local need for Patients' Rights to be backed by a legal framework and include an independent point of redress and to have a National Pain Plan based on recent research results published by MHN following a local study which confirmed that 1 in 5 Maltese adults suffers from Chronic Pain. Event was held in conjunction with Annual General Meeting of the organisation.
The meeting was also addressed by Mariano Votta on behalf of Active Citizenship Network who invited the MEP candidates to join the Patients' rights day celebrations in Brussels on 9th April and show their commitment towards Patients' Rights.
The MEP Candidates supporting the #europeforcitizens campaign are
·         Arnold Cassola (Independent within the Greens-EFA Group)
·         Anthony Buttigieg (Partit Demokratiku is affiliated with ALDE the Alliance of Liberals and Democrats)
·         Mina Tolu (Alternattiva Demokratika affiliated with Greens)
·         Felix Busuttil, Cyrus Engerer, Mary Gauci, Robert Micallef, Alfred Sant (Labour Party affiliated with S&D)
·         Michael Briguglio, Michael Mercieca, Roberta Metsola, David Stellini & Francis Zammit Dimech (Nationalist Party affiliated with EPP)