Between January – March 2023 the Malta Health Network will be carrying out a series of seminars entitled Patient Empowerment Training. These are aimed to equip patients, carers, professionals and public in general on health matters which are key to manage better ones health and make use of the appropriate services as required.
Session 3: Patient's rights
7th February 2023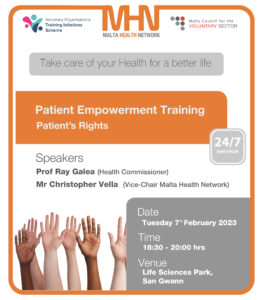 Speakers will be Prof Ray Galea – Health Commissioner and Mr Christopher Vella Vice-Chair Malta Health Network
Attendance is free but registration is highly recommended. Register for session on this link 
Session 4: Self-Management
9th March 2023
Speakers to be confirmed
Session 5: Safe use of Medication
23rd March 2023
Main speaker: Profs Serracino Inglott, Chairperson Malta Medicine Authority
This project has been funded by the Training Initiatives Scheme managed by the Malta Council for the Voluntary Sector and is also being supported by the Malta Medicines Authority.
Session 1: Access to Services
The first session was held on 12th January 2023. Links to recordings of the presentations will be made available shortly.
Session 2: What we need to know about antibiotics and Antimicrobial resistance.
Session 2 was held on 27th January 2023 with Mr. Mariano Votta- Director of Active Citizen Network(ACN) & board member of AMR Patient Alliance and Dr. Michael Borg- Chair of The National Antibiotic Committee Malta as Key speakers. Link to recording of the presentations will be made available shortly