---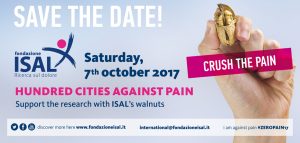 On Saturday 7th October 2017 Malta will be joining 100 cities worlwide. 2017 promo
More than 200 Million of persons in the developed world suffer from chronic pain on a daily basis. This includes back pain, headaches, arthritic pain, pain due to cancer and other syndromes. These are just few examples of chronic pain that affects more than 20% of active population, with inevitable consequences for life quality and work and with huge social and healthcare costs. Pain also has a psychosocial impact with proven statistics that 20% of persons with chronic pain suffer from depression which may lead to suicide. These conditions lead to lost hours from workplace and millions spent in medicines and healthcare services. The Malta Health Network has joined the initiative "100 cities against pain" led by ISAL foundation for the second year. The campaign is now spread over most of the Italian territory and spans from Canada to Australia, many countries within the EU and all the way to Columbia and Dubai.
The project "100 cities against pain" proposes:
– Sensitize and inform people about pain
– Recognize chronic pain as a preventable and treatable disease
– Support health care efforts to prevent and manage chronic pain
– Make medications refundable and diagnosis and care instruments available
– Promote fund raising for research
– Facilitate a specialist formative culture
– Involve media in pain fighting
The aims of the campaign are mainly to raise the awareness of the general public that Pain is real and those who suffer in silent are encouraged to come forward and seek adequate help and treatment. Secondly there is a felt need of more awareness and training amongst medical and health care professionals to recognise and treat pain adequately.
Many patients complain that medics look at their condition and underestimate the burden of pain. Last but not least is to increase the awareness for more need of research and thus the campaign is a voice to the EU commission to devote more funds for research in pain as a disease on its' own and to encourage funds to be collected for pain research.
This day in Malta is led by the Malta Health Network, SIP Malta with the collaboration and support of Association of Rheumatoid Arthritis Malta, Malta Association of Physiotherapists, Malta Association of Occupational Therapists, PRIMA, Mater Dei Hospital, Karin Grech Hospital, Primary Health Care Department and the National Blood Transfusion department
Back
---