Year 2022
_________________________________________________________________________________________________________________
MHN AGM

 
28.02.2022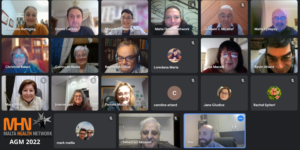 On 28th February 2022, MHN held it's Annual General Meeting for year closing December 2021.
Annual report and financial reports were presented and approved.
Those present approved a Position Paper which is to be disseminated to the local authorities with main concerns which were brought forward by Members over the past months.
Malta Health Network Board meets the Health Committee of Parliament
February 2022
On Wednesday 9th February 2022, Gertrude  Buttigieg (Chairperson), Prof Ray Galea (Vice-Chairperson) and Mr Mark Mallia (Board Member) as representatives of the Malta Health Network,   had a meeting with The Parliament Health Committee where an overview of the work of MHN for the past 15 years was discussed. The Committee was also presented with a copy of Position Paper drawn by MHN following a consultation with members about the Access of medicines and Services in Malta and other issues that our member organisations encounter. MHN presented a copy of the Proceedings of the Societal Impact of Pain Symposium 2017 which was hosted in Malta.
Recording of the meeting may be accessed through this link.