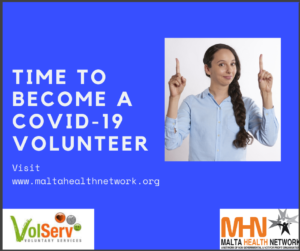 Thanks to the generosity of many during the months of March and April in order to assist in the Covid-19 Pandemic in Malta, our volunteers have given over 10,000 hours of volunteering to the health services in Malta. The jobs were many.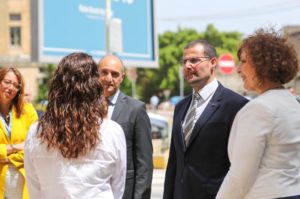 The work done has been also appreciated by the Hon. Robert Abela, Prime Minister and the Hon Chris Fearne, Deputy Prime Minister and Minister for health during a visit they had at Public Health. They were very thankful for all the contributions given and showed an interest that this collaboration between volunteers through Malta Health Network and Public health is strengthened. Prof Charmaine Gauci, Superintendent of Public Health explained how every task, no matter how big and small it seemed was very important to support all the efforts being done for the best of the nation.
Duties carried out by Volunteers include data inputting, contract tracing, patient-follow-ups, ensuring safety of working environment through temperature monitoring at entrance and phoning people to come to the swabbing centres just to mention a few duties carried out. Others have helped with running errands for vulnerable groups and various non-Maltese persons have helped in doing translations so that all people in Malta could be reached.  Many people have been consistently contributing whilst others had to stop due to various reasons.
Although compared to other countries Malta seems to be thriving well, there is still a lot to be done.
A fresh call for volunteers is being issued. Thanks to VolServ we are recruiting people through a new Covid-19 Volunteers registration link. The call is open to all interested so we invite you to share it with anyone whom you think might be interested in helping out.
As a special thanks to all we hope you enjoy this message.