Sharing Research Data: Investigating Multilingualism & a Creative Movement Approach to Language Therapy
18 February, 6:30 pm

-

8:30 pm

€5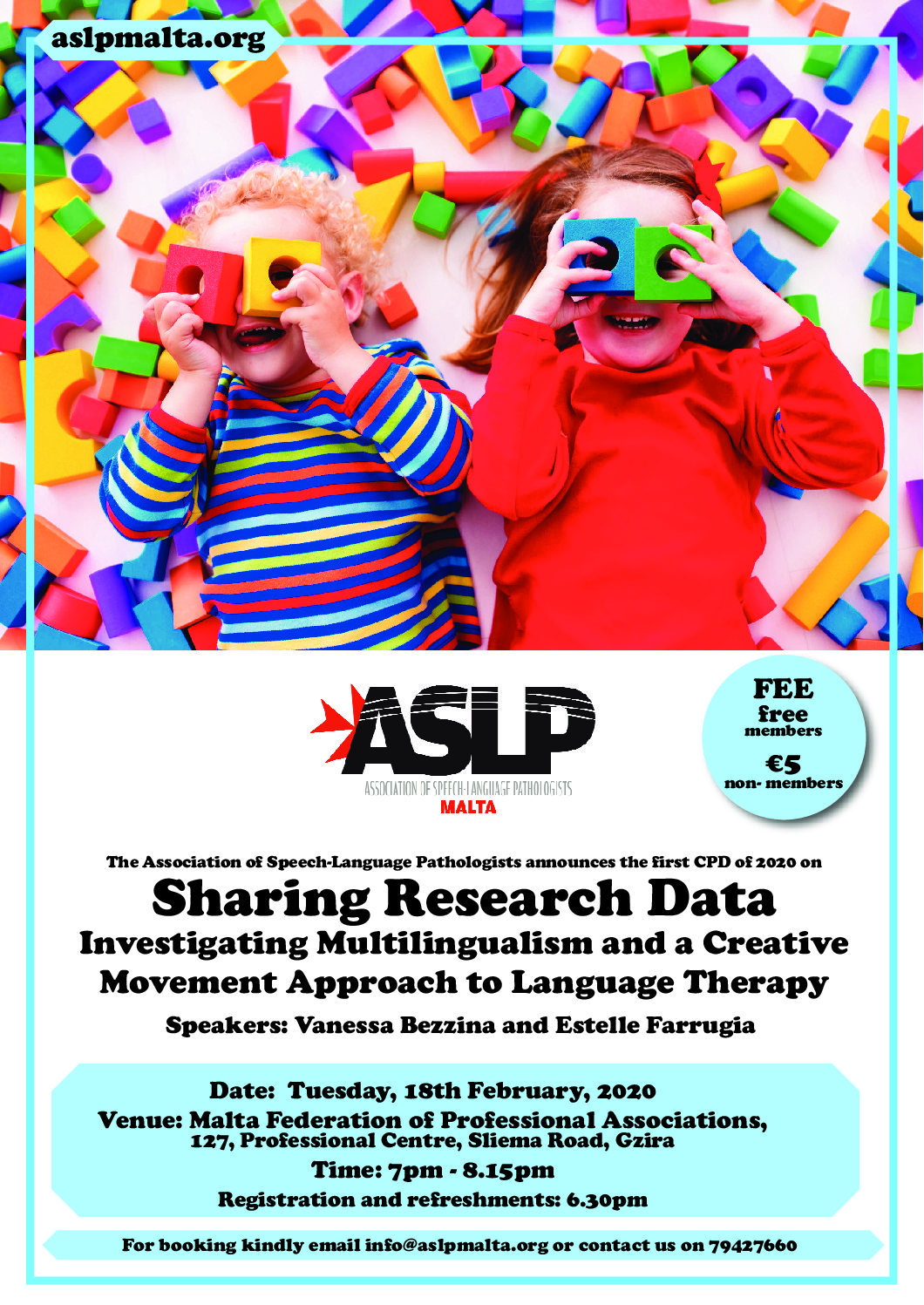 In our aim to share research data, ASLP is proud to host Ms. Vanessa Bezzina and Ms. Estelle Farrugia who will be presenting their research findings on two very interesting and relevant SLT topics.
Ms. Vanessa Bezzina will be presenting her research which focuses on Multilingualism. Her study aimed to contribute to our understanding of the training obtained and required, as well as practices and perspectives of Maltese SLPs when providing assessment and intervention to Maltese-English Bilingual and multilingual clients. Implications for speech and language therapy service delivery, training provision and areas for future research will be discussed.
Ms. Estelle Farrugia will be presenting on Creative Movement approach to Language Therapy. The research attempts to investigate whether participants respond differently to a creative movement approach as compared to a traditional learning approach and  whether one approach is more likely to facilitate word learning than the other and whether intrinsic and/or extrinsic factors present during either approach contributed to the participants' learning experience.
Both research projects were submitted as part requirement for the M.Sc. Language and Communication Impairment in Children with The University of Sheffield.
We look forward to seeing most of you.  Your support on these initiatives and events are valued. This event is free for paid up members and €5 for non members.
Kindly book for the CPD through the google form below:
https://docs.google.com/forms/d/1E1RNCLe7QRI6EGKh7ZWosJvd5gbJiDNYu4Q17JKYP0o/edit